Contract Catering
As operators of All Out Catering, City Eats, & Pig Out UK, we wish to express our interest in tendering for Catering Contracts.
We provide a wide range of catering solutions for events and venues throughout the country, across many industry sectors.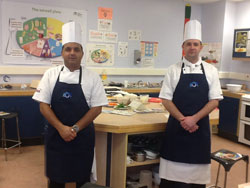 We are the contracted caterers at Oswald Hall Conference Centre in Auchincruive, Ayr, and have successfully completed our 2 year contract  for operating the Coach House Restaurant within Loudoun Castle Theme Park. We also successfully completed a five month catering contract with Strathclyde Fire Brigade, and were awarded a two year catering contract with Goodrich Service Centre, Prestwick, in January 2010.
We can react quickly to emergency on-site catering, and have provided such services for Carilion, Network Rail, and Damm Environmental.
We also have arrangements with various other businesses to meet their catering requirements on a regular basis.
For further information on how All Out Catering could provide your company with professional and reliable catering services please get in touch.
"As an expression of our thanks for your invaluable assistance in the planning and execution of the highly successful 'Party At The Castle' event, held last month, I thought you might find it interesting and enjoyable to visit the unit and learn some more about the work we do..........inviting you to visit Scottish Air Traffic Control Centre." Wing Commander Connelly - ScATCC (MIL)- View our Testimonials