Cook School / Food & Wine Tasting
Allout Catering loves nothing more than using all their catering talents in creating wonderful dining experiences for Fine Diners.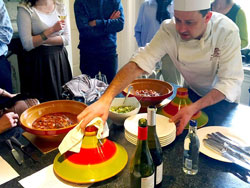 Whether they are whisked off to a secret location to cater for VIP's, or are hired into a customers home to make their ocassion that extra bit special, the passion for cooking and the attention to detail leaves guests stunned.
You can choose your own dishes from our tempting Menu Selector, have a unique menu created solely for you, or even catch your own dinner for David to get creative with. Yes folks that's right; we have had various fish and game brought to us on location and have had to sort of 'Ready Steady Cook'.
For further information or to arrange your Private Dining Experience please get in touch.
"I would like to thank the guys that were here last night setting up the buffet, the Food and Service was first class. Please thank them on behalf of Goodrich."
Goodrich Corporation - A.Gallagher- View our Testimonials