Weddings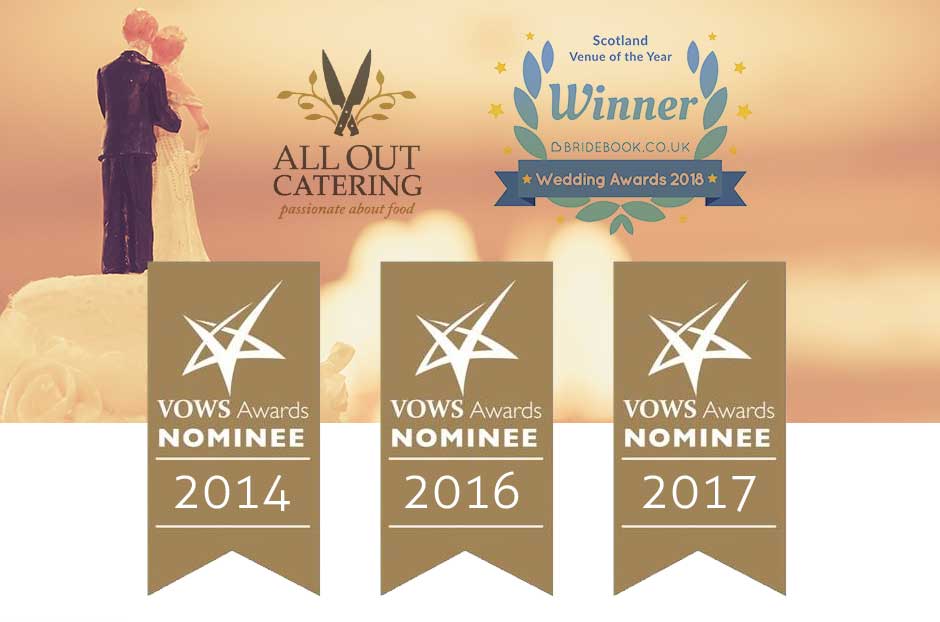 May we take this opportunity to congratulate you on your engagement!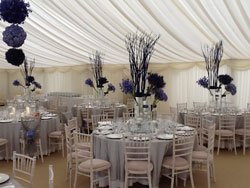 Just as you are passionate about each other, we are passionate about what we do. This passion combined with over 15 years experience in managing wedding receptions ensures you a most memorable day with the very best of food and personal service.
Planning a wedding should be an enjoyable journey, but in reality it rarely is. Our simple and enjoyable approach to planning and managing wedding receptions should however ease the stress of the' having to please everyone' scenario. It's your day, so please yourself!
David McClelland, trained at Gleneagles and is an IFEX International team coach, he and his team can tailor make a menu just for you, providing a personal service from beginning to end. Our catering options are endless, and we have hand picked the best wedding venues and suppliers. Whatever your needs are, whatever your budget, we can tailor make a Wedding Reception just for you.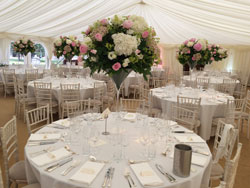 Weddings are a very important part of our business, and for that reason we deal with them personally from beginning to end, to make all your wedding day dreams come true.
Check out our Menu Selector below, our Buffet examples, and Spit Roast & BBQ for catering ideas. Please contact us via our online form, email, or telephone to discuss your plans in detail.
Menu Selector
Typical wedding packages start from £64.50pp
Please find below our menu sampler with a wide range of culinary delights for you to choose from.
Canape Selection
Starters
Beef Main Dishes
Lamb Main Dishes
Chicken & Duck Main Dishes
Fish Dishes
Desserts
CANAPE SELECTION
Smoked Chicken Caesars.
Mini Prawn and Apple Salads.
Mini Duck and Hoi Sin Wraps.
Mini Chorizo and Feta Kebabs.
Melon Balls wrapped in Parma Ham.
Sun Dried Tomato and Mixed Olive Skewers.
Smoked Salmon and Camembert Toasts.
Smoked Trout and Horseradish Tartlets.
Crostinis Topped with Pea Butter and Smoked Trout.
Parma Ham Bruchettas with Olive Tapenade.
Haggis Filo Parcels with Mustard Cream Dip.
Stuffed Apricots with Creamed Stilton.
Mini Chicken Satays with Chilli and Peanut Dip.
King Prawns in Filo Pastry with Chilli Jam.
Avocado and Sun Dried Tomato Choux Puffs.
Thai Ginger Fish Kebabs.
Mini Chicken Fajita Wraps with Garlic Mayo.
Potato Rostis with Lemon and Chive Cream.
Goat's Cheese and Tomato Bruchettas.
Choux Buns filled with Crab and Lemon Mousse.
Curried Beef Jerky with Sweet Chilli.
Smoked Venison and Orange Salads.
Baked Mini Beef Wellingtons.
Arran Oatcakes with Pate and Red Onion Marmalade.
Herb Polenta with Sweet Orange Chicken.
Crab and Guacamole Blinis.
Whisky Cured Smoked Salmon with Creamed Cheese and Chive.
STARTERS
Baked Camembert & Fig Salad.
Sweet Tomato & Pepper Tart with Basil Dressing.
Smoked Duck & Pine Nut Salad with Orange & Cos Salad.
Avocado & Cured Bacon Salad with Aged Balsamic Essence.
Chicken Liver Parfait, Red Onion Marmalade & Arran Oatcakes.
Salmon & Sole Terrine with Lime Crème Fraiche & Rocket Salad.
Hot Smoked Salmon with Celeriac Remoulade & Poppy Seed Bread.
Smoked Chicken Caesar with Shaved Parmesan & Coriander Croutons.
Pork Belly & Black Pudding with a Poached Egg & a Mustard Cream.
Chicken & Sun Blushed Tomato Terrine with Lime & Coriander Dressing.
Marinated Garlic Mushrooms on a Toasted Bagel with Red Onion Marmalade.
Gateau of Haggis, Neeps & Tatties, Whisky Cream & Parsnip Crisps.
Tiger Prawn, Fine Bean, Ginger & Lemon Salad with Soy Dressing.
Game Terrine, Apple & Raisin Chutney with Buttered Brioche.
Smoked Mackerel Pate with Olive Bruchettas & Tomato Salsa.
Goats Cheese Tartlet with Sun Dried Tomatoes & Pesto Salad.
Homemade Fish Cake with Wilted Spinach & Lime Mayo.
Teardrop of Ogen Melon with Parma Ham & Ginger Syrup.
Salad of Prawns & Avocado with Sauce Marie Rose.
Black Pudding, Brie & Apricot Salad.
BEEF MAIN DISHES
Individual Beef Wellington with a Winter Truffle Jus.
Steak & Ale Pie topped with a Flaky Butter Pastry.
Medallions of Fillet Steak with a Whisky & Grain Mustard Sauce.
Stripped Topside of Beef Stroganoff with Gherkins & Crème Fraiche.
Sirloin Steak with Field Mushrooms and Onion & Red Wine Gravy.
Roasted Topside of Beef with Yorkshire Puddings & Horseradish Cream.
Slow Braised Rump of Beef, Wild Mushrooms, Streaky Bacon & Bordeaux Jus.
Slow Roasted Sirloin Steak, Crisp Herb Potatoes & Green Peppercorn Cream.
Braised Rump of Beef with Roasted Winter Vegetables & Pan Gravy.
Pan Seared Fillet of Scotch Beef, Confit of Shallots & Madeira Jus.
Beef Olives Stuffed with Haggis, Creamed Mash & Onion Gravy.
Ribeye of Beef, Tomato & Shallot Compote with Stilton Cream.
Traditional Beef Bourguignon with Farmhouse Bread.
Beef Teriyaki with Soft Noodles & Crisp Greens.
LAMB MAIN DISHES
Noisettes of Lamb with Bramble Jus.
Traditional Irish Stew with Potato & Herb Dumplings.
Rack of Ayrshire Lamb with a Mustard & Brioche Crust.
Pan Seared Lambs Liver with Crispy Onions & Pan Gravy.
Slow Roast Shank of Lamb, Roasted Winter Vegetables & Redcurrant Jus.
Slow Roast Leg of Lamb, carved with a Garlic & Rosemary Sauce.
Moroccan Lamb resting on a bed of Roasted Almond Rice.
Loin of Lamb Stuffed with a Chicken & Pistachio Mousse.
Lamb Cutlets, Spiced Herb Cous Cous & Apricot Jus.
Loin of Lamb stuffed with Butternut Squash & Sage.
CHICKEN & DUCK MAIN DISHES
Chargrilled Chicken Salad with Crispy Bacon & Caesar Dressing
Cajun Coated Breast of Chicken with a Sweet Pepper Mash & Pineapple Cream.
Pan Fried Breast of Chicken, stuffed with Haggis, served with a Whisky & Pepper Cream.
Glazed Breast of Duck resting on a bed of Black Pudding Mash, drizzled with a Honey & Raspberry Jus.
Roulade of Free Range Chicken stuffed with Mushroom & Tarragon Mousse, drizzled with a Pistachio & Asparagus Cream.
Confit of Duck Leg & Seared Breast of Gressingham Duck with a Potato Fondant & Pearl Barley Broth.

Chicken Breast with a Haloumi Cheese & Pesto Stuffing served on a Sun Blush Tomato Cous Cous.

Poached Roulade of Chicken with Mushroom & Pancetta, sliced on a Winter Truffle Risotto.
Pan Seared Breast of Duck with Crispy Potato Gnochi & Marmalade Jus Lie.

Chicken Encroute with Roasted Almonds and Apricots.
FISH DISHES
Poached Fillets of Sole with a Prawn & Sesame Crust.
Poached Fillets of Sole with a Grape & Noilly Prat Sauce.
Seared Monkfish, Polenta Gateau, Crisp Pancetta & Chorizo Oil.
Baked Dame of Scottish Salmon, Roasted Mediterranean Vegetables, Olive & Nappoli Sauce.
Pan Seared Fillet of Salmon, Ginger and Shrimp Stuffing, Lemon Butter Sauce.
Stir Fry of Garlic Coated King Prawn & Ginger, Sesame Noodles & Sweet Chilli Sauce.
Monkfish & Scallop Kebabs, Sultana & Cajun Cous Cous, Lemon & Coriander Cream.
Smoked Haddock with Wilted Spinach, Crushed Potatoes & Grain Mustard Cream.
Seafood Risotto with Green Grapes & Torn Herbs topped with Parmesan Crisps.
Fillet of Sea Bass, Braised Endives, Creamed Garlic Leek & Sorrel Sauce.
Grilled Half Lobster Thermidor with a Scented Rice & Mustard Mayo.
Seared Tuna Loin with Mango, Red
Onion & Coriander Salsa.
Cassoulette of Sea Food, Vermouth Cream & Orzo Pasta.
DESSERTS
White Chocolate & Raspberry Trifle.
Homemade Peach & Mango Cheesecake with Gingernut Base.

Individual Lemon Torte with Creme Fraiche & Candied Strawberries.
Apple and Rhubarb Pots topped with Cinnamon Crumble & Vanilla Ice Cream.

Selection of Scottish & Irish Cheeses served with Arran Oaties and a Spicy Pear Chutney.
Meringue Nest loaded with Fresh Strawberries & Sweet Chantilly Cream.
Homemade Chocolate Chip Bread & Butter Pudding with Sauce Anglaise.
Brandy Baskets filled with Exotic Fruits & laced with a Mango Syrup.
Fresh Ayrshire Raspberry & Vanilla Creme Brulee.
"We would like to thank you for all the effort you put into helping our wedding run smoothly. We had a brilliant day and it could not have gone better. Can you pass on our thanks to everyone that helped out and did a great job. We had so many positive comments throughout the day about the venue, staff, food and general atmosphere." Oswald Hall Wedding  - Mr & Mrs Howlett- View our Testimonials