Spit Roast & BBQ
Wow your guests with the best Crackling Pork that they have ever tasted. Ideal for celebrations of all sizes from Garden Parties to Corporate Events for 5 to 5000 guests. Feeding the masses has never been quite so impressive!
Delivered and carved on the spit by our professional Chefs at your chosen location, the unique gas-fired spit may be used indoors or out, without fumes or smoke.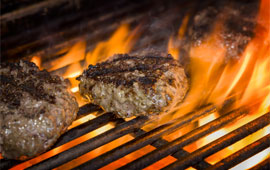 We have numerous Spit Roast machines with varied attachments enabling us to roast just about anything (as long as it is legal) and anywhere. Our aim is to provide you with Hassle Free Event Catering – where we take the pressure off you and allow you to enjoy your event to the full.
The fabulous display and tempting aroma will make your event a great success!
Please contact us via the online form, email, or telephone to discuss your requirements.
Our Prices
SPIT ROASTS
Catering for small and large events both indoors and outdoors.
Spit Roast Scottish Porker
Crackling, Apple Sauce, Stuffing 4 Salads, Crusty Bread and Baby Potatoes Price based on minimum of 70 guests - £10.50
Spit Roast Ayrshire Lamb Solo
Mint Sauce and Crusty Bread Sufficient for up to 40 guests - £360.00
Spit Roast Half Chickens
4 Salads and Crusty Bread. Price based on minimum of 60 guests - £8.95
Spit Roast Porker Solo
Apple Sauce, Stuffing and 150 Soft Rolls - From £595.00
• See BBQ Selector for Vegetarian Option
ALSO AVAILABLE: Spit Roasted Joints of Scotch Beef | Additional Joints of Pork & Lamb
---
SALAD BARS
Mixed Tossed Salad - 85p Per Portion
Caesar Salad with Creamy Garlic Dressing
Tossed Green Salad
Chunky Coleslaw
Potato Salad with Spring Onion
Waldorf Salad with Apple Celery and Walnut
Cucumber with Yoghurt
Mediterranean Cous Cous with Peppers
Thai Spiced Chickpea Salad
Italian Plum Tomato, Fresh Basil and Balsamic Dressing
Penne Pasta with Sundried Tomato and Fresh Pesto
Rice Salad with Apricot, Cashews and Raisins

LUXURY SALADS - 50p Supplement
Mixed Beans with Cherry Tomatoes, Houlumi Cheese and Pesto
Italian Mozzarella with Tomato, Fresh Basil and Olive Oil Dressing
Salad Nicoise Green Beans, Tuna Flakes and Fresh Olives
Greek Salad Feta, Black Olives, Cherry Tomatoes and Herb Aoli
---
BBQ SELECTOR - Choose a maximum of 5 items
Houlumi and Pepper Kebab (V) £3.00
Mini Corn on the Cob (V) £1.50
Vegetarian Sausage (V) £1.50
Roast Stuffed Peppers (V) £3.00
Venison Sausage £2.50
Pure Scottish 4oz Beefburgers inc. buns £3.00
Pork and Black Pudding Burger inc. buns - £3.00
Pork Sausage Sizzler inc. finger rolls - £2.50
Chicken Quarters with BBQ Glaze - £3.75
Golden Chicken Drumsticks - £2.25
Spicy Chicken Skewers - £3.00
Seafood Kebab - P.O.A.
Salmon, Scallops and Monkfish Cajun Spiced Salmon Fillets -£4.50
Spare Ribs with BBQ Glaze - £3.25
Pork Escalope - £3.00
Range of Scotch Beef Steaks - P.O.A.
Please note there is a minimum spend of £400.00 on BBQ catering.
---
EXTRAS
Baby Boiled Potatoes - £1.00 per portion
Baked Potatoes - £1.75 each
Crusty or Continental Breads - 75p per portion
Grated Cheese - 35p per portion
Sauté Onions - 35p per portion
Selection of Vegetables - P.O.A
A wide variety of starters and desserts to suit any event are available upon request.
We supply:
Pagoda to cover cooking and buffet area. Chefs to carve and waiting staff to serve and clear. Disposable plates, cutlery and napkins.
Upgrade:
Table Linen, crockery and cutlery available P.O.A.
A delivery charge is applicable on all jobs. A supplement of £50.00 is applicable when adding BBQ items to a spit roast for the additional chef.
All prices are subject to VAT.